Top Five Things To Look For In A Low Voltage Specialist/TV And Audio Dealer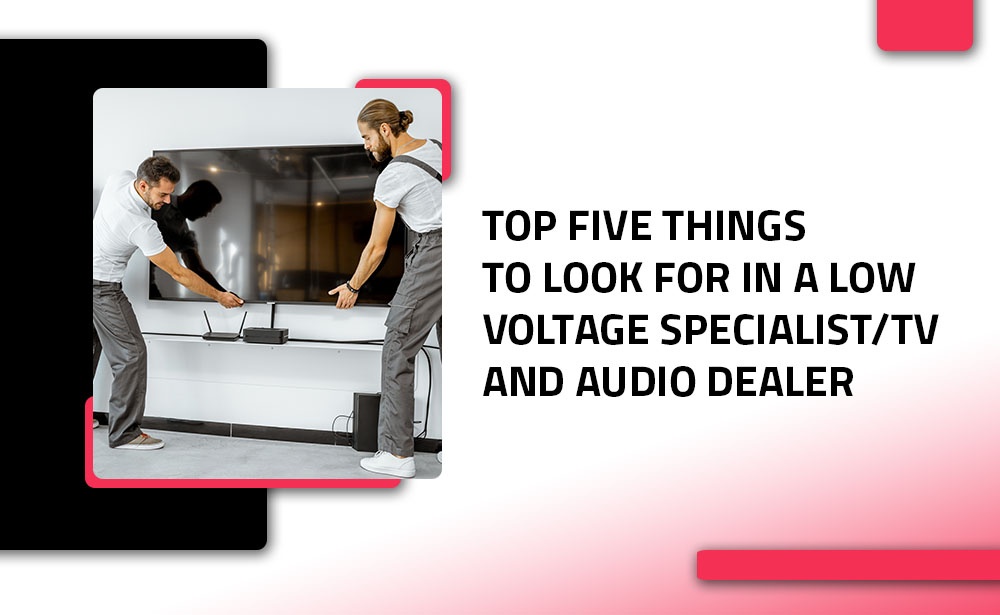 Whether you're a new business owner launching a conference or attending a music festival, booking a professional audio dealer can give anyone access to reliable gear and experienced technicians who can assist with their needs.
A low-voltage specialist is in charge of maintaining and putting in low-voltage cables and systems for communication and electronic equipment. To connect the connections securely and precisely, low-voltage experts examine drawings.
It can be hard to know where to start if you're looking for a low-voltage specialist to help you with your audio and television needs. With so many options, how do you determine which one is right for you?
Here are five key things to look for when choosing a low-voltage specialist.
1. Right Low Voltage Specialist for Your Home
When it comes to finding a low-voltage specialist, you want to make sure that you are making the right decision. After all, this is someone who will be helping you set up your home theater system or sound system, and you need to know that they are going to do the job correctly. There are a few key factors that you should always look for in a low-voltage specialist/TV and audio dealer.
2. Presentation
First, presentation matters in any industry. If a low voltage specialist/TV and audio dealer is taking pride in their work, they will be presenting themselves professionally. This means that they should have an organized website, a well-maintained office space, and qualified employees who can answer your questions. If the company looks unprofessional online or in person, then it's probably not worth your time and money.
3. Track record
Secondly, look into the track record of any potential companies. It's important to get references from past customers so you can see how they were treated by the company and how satisfied they were with the end result. Ask if there were any issues during installation or if everything went smoothly. A good company should have a long list of happy customers whose needs were met in an efficient manner.
3. Cost
Cost is obviously an important factor as well. You want to find a low voltage specialist/TV and audio dealer who is offering competitive prices for their services without sacrificing quality or customer service. Ask about any fees associated with installation or setup, so you don't get caught off guard by any hidden expenses at the end of the project.
4. Expertise
Another important factor is expertise; make sure that anyone working on your project has adequate experience in installing audio/visual equipment and setting up home theaters or sound systems correctly. They should also be knowledgeable about different brands so they can make recommendations based on your budget and specific needs.
5. Customer service
Finally, customer service is key when selecting a low voltage specialist/TV and audio dealer for your home setup needs; find out what kind of warranties are offered on products installed by them as well as what kind of support system they have in place for after installation services like repairs or upgrades down the line if needed. Good customer service means that even after installation is complete, someone from their team is still available to help answer questions or provide assistance when needed - even months after purchase if necessary!
If you are looking for an audio dealer, then contact Digital Future Now. We deliver the best possible services at the best prices. We provide high-quality electronic brands for commercial and residential systems offered at a reasonable price and installation with attention to service, quality, and customer focus.
Get in touch with us today!
To learn more about the services we offer, please click here. To get in touch with us, please click here or call us at (610) 866-9961 or email us at office@digitalfuturenow.com.
---
---